As part of the 'Back to the Quarry' project, we carried out some workshops at two primary schools in the Headington area: Wood Farm Primary School (situated a couple of minutes walk from the house which Kimber was born in) and Windmill Primary School (where Kimber used to teach morris dancing).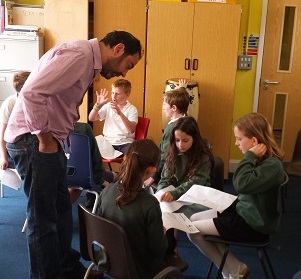 Three local folk artists worked with a group of children from each school. As an introduction to the topic, the children all watched a clip from the 'Music in the Family' film, had a go at some morris dancing, learned part of a Morris dance tune, and sang a favourite song of Kimber's. They then split in to smaller groups, and each group was asked to decide on an area or topic that they found interesting, and would like to learn more about, with the aim of sharing what they had learned with the rest of their class.
Approaching the workshops from a child-led perspective allowed us to get a good feel for what the children found interesting about the topic, and also helped us to develop a wide-ranging and varied Education Pack. The children approached the topic from different perspectives; some wanted to learn more about the music, some researched Morris dance styles and composed their own dances, some researched Kimber's life, and some created a map of the area with relevant landmarks on it.
You can read more about the workshops in our project blog.
We have uploaded videos to Youtube so you can see the outcomes of the workshops - click here for the videos of the groups who chose music, click here for the videos of the groups who chose storytelling and drama, and click here for the videos of the groups who chose dance.
If you are interested in carrying out a similar project in your school you can download our free Teacher's Pack.